"New Order" – an 'Indie' Review of the World Athletics Championships
It is a Blue Monday. Yesterday, the closing Ceremony  and passing of the IAAF flag heralded the ending of the World Athletics Championships. Today there are feelings of sadness and Regret, at the conclusion of ten days of glorious and dramatic competition, infused by joy, celebration, controversy and despair.

Hey Now What You Doing ? Well, many are in a state of Shellshock. None would ever suggest that the careers of Mo and Usain were Ruined in a Day, but the Procession of gold medals, which had previoulsy come like a Jetstream, ended there and then on these last two incredible and dramatic Saturday nights. No longer can Usain run at 60 Miles an Hour. Never again will the World see Mo Run Round and Round a track again.
A Fine Time to call it a day for them both ? If they were Waiting for the Siren's Call,  it sounded loud and clear.
It came in the sound of the US national anthem for Usain, as it was played and booed in recognition of Justin Gatlin's victory in the 100m. Many remain disgusted that Gatlin was even competing, as he was once Pumped Full of Drugs and Chemicals, an argument for which there is much Substance. Guilt is a Useless Emotion and Gatlin, training and Working Overtime, Morning Night and Day, achieved what many thought was impossible and defeated Bolt.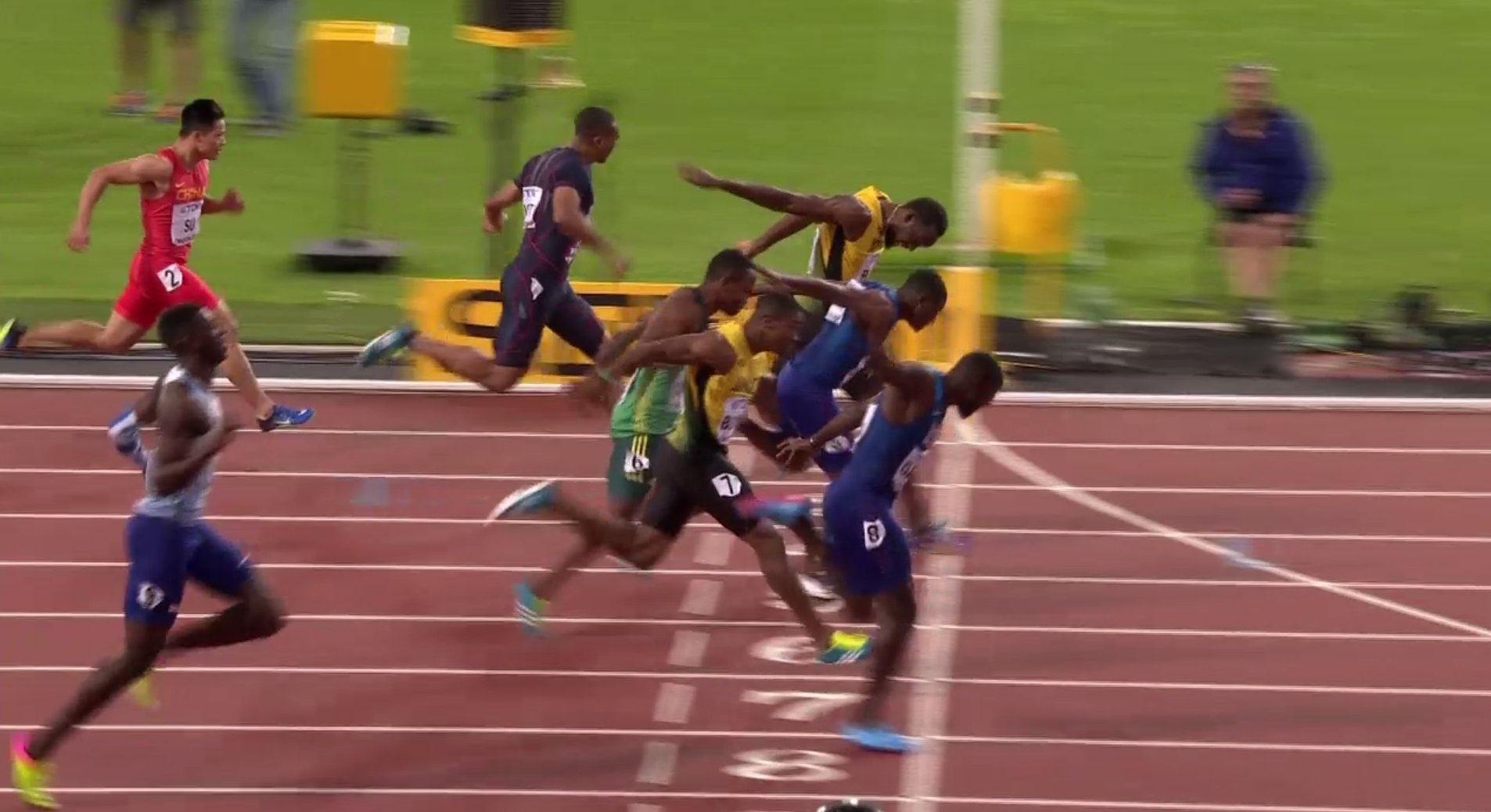 For Mo, the siren came in the sounds of the Ethiopian anthem to reflect the incredible victory of Muktar Edris in the 5000m.  The 23 year old is Here to Stay, it's his Chosen Time and his feats may see the beginning of a New Order in long distance track running. A Turn of the New Drum. Everything's Gone Green, yellow and red, of Ethiopia.
The anthems sounding, the Music Complete, the party is over for Usain and Mo. Thieves Like Gatlin and Edris, the latter like a Young Offender, stealing gold medals from their supposed rightful owners signify this World in Motion in which we live. But let's not forget, Usain and Mo were Touched by the Hand of God. They too touched many hearts and inspired millions.
So, is this the end of an era ? Many say that Dreams Never End. For Mo, the Temptation of more glory, of more Crystal, will lead him to Turn to the road, Sooner Than You Think. Get Ready, for he will Face Up, come again and Run Wild. Times Change but he is Special. Yet unfortunately doubts still remain as to whether his coach  Alberto Salazar is a Guilty Partner?
For Usain, Mr Disco, he will be off, All the Way to a Vanishing Point in Paradise for a new Way of Life. To Rock the Shack, to Slow Jam with Angel Dust falling and no doubt to seek The Perfect Kiss. But will he be Lonesome Tonight, will he have a Dream Attack, will he miss the Atmosphere, will he get Restless?
For Team GB, do the 6 medals,  of which 4 were for the sprint relays, reflect the State Of The Nation? Is there a Krafty Sub-culture in British Athletics which is geared towards relay success?  The feeling of the Brotherhood, True Faith and spirit shone through, especially in the men's 4 x 100m relay. Their incredible golden Run was a fist pumping moment.
Let's just hope that Love Will Not Tear Them Apart before the next championships. After all, for the World, What's the Price of Love ? They must be wary of Bizarre Love Triangles and Love Vigilantes.
There was certainly little success for People on the High Line, with the motions of Holly Bagshaw's coach in the pole vault completely destructive. He was something of a Weirdo. Bagshaw's Silent Face reflected a state of utter Confusion as she missed out on an achievable medal. Movement and Technique all awry. Ditto Grabarz, Lake and Johnson-Thompson in the High Jump.
And what about the IAAF ? They were once decried as being an organisation, maybe even a Republic,  of Power, Corruption and Lies, inhabited by Plastic Low-Lifes with Vicious Streaks. Spooky, with many a Liar Behind Closed Doors. But in spite of Denial, the Truth will out and whilst there are Doubts Even Here, many have come to their Senses. It is a Primitive Notion but with an Avalanche of praise coming their way from Everyone Everywhere following such an exceptional World Championships, perhaps there is a New Order in the corridors of power, as well as on the track? We can but hope.
All musical references are to New Order, who are an English rock band formed in 1980, currently comprising Bernard Sumner, Stephen Morris, Gillian Gilbert, Phil Cunningham and Tom Chapman. The band was formed in 1980 by Sumner, Morris, and Peter Hook, who were the remaining members of post-punk group Joy Division following the suicide of vocalist Ian Curtis. They added Gilbert (keyboards and guitars) later that year.
By combining 
post-punk
 with an increasing influence from 
electronic
 and 
dance music
, New Order became one of the most critically acclaimed and influential bands of the 1980s.
[1]
 Though the band's early years were shadowed by the legacy of Joy Division, their experience of the early 1980s New York City club scene saw them incorporate elements of dance rhythms and instrumentation into their work. The band's 1983 hit "
Blue Monday
", the best-selling 
12-inch single
 of all time, is one example of how their sound became increasingly uptempo and electronic.
[2]
(Wikipedia)